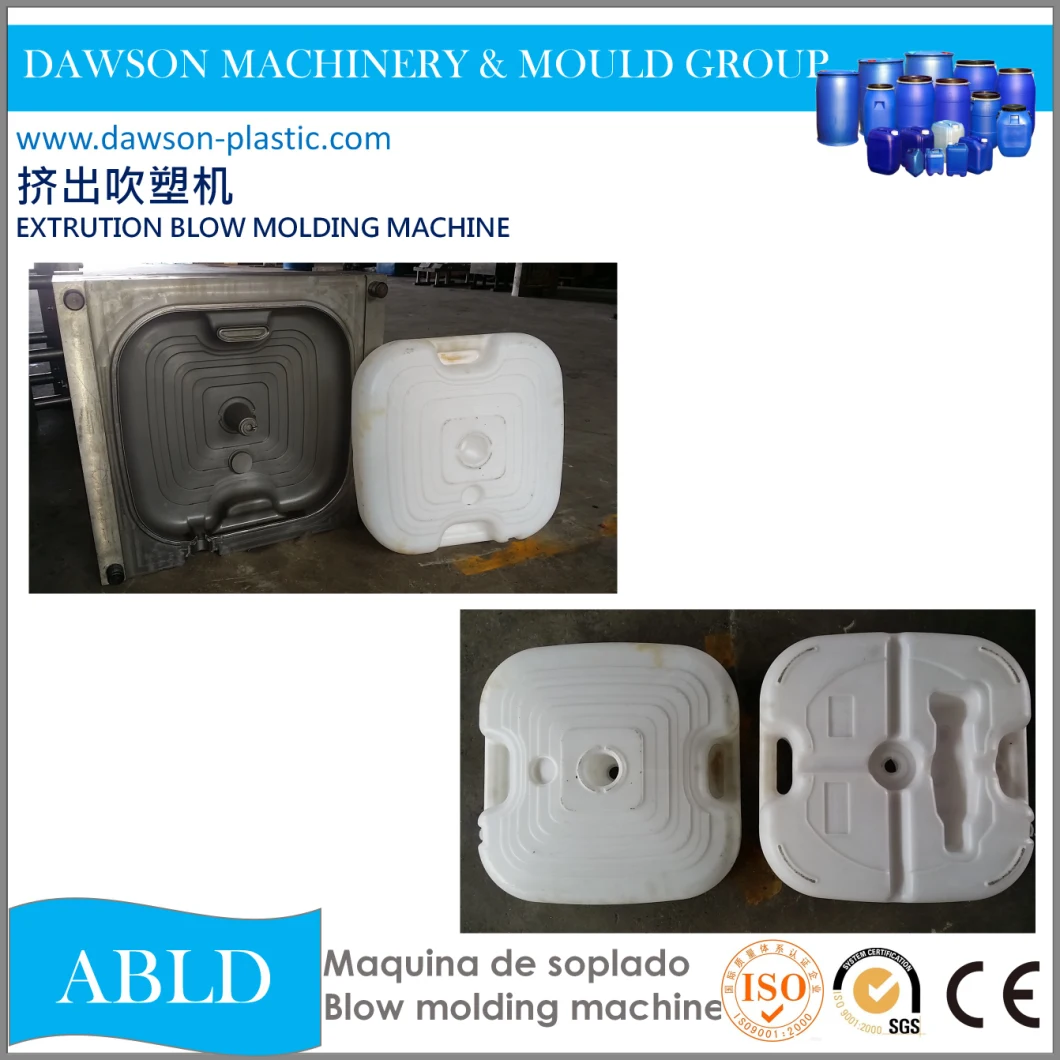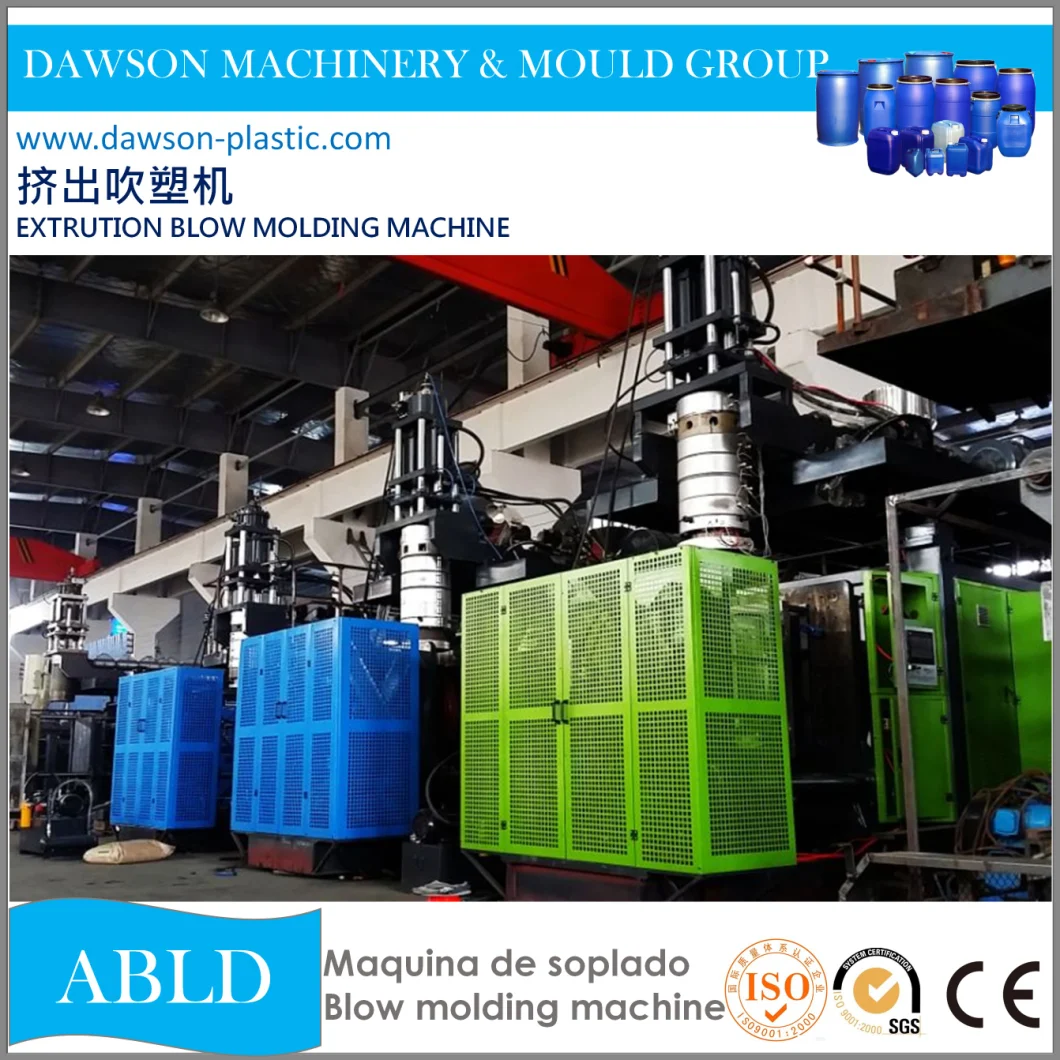 Extrusion blow molding machine ABLD100
Extruder

1

Screw diameter

100mm

2

L/D ratio

24:1

3

Screw speed

15~50r.p.m.

4

Drive motor

45Kw

5

Heating zone with cooling fan

6 zone

6

Output/Capacity

170 Kg/hr(HDPE particle)

8

Heating capacity

25.1 kw

9

Vertical adjustment of head

500mm

10

Forward/Backward adjustment of head

500mm

11

Groove feed barrel cylinder

Have IKV

12

Gear box

Hard gear decelerator

13

Ladder and safety rails

Have

Accumulator Head

1

Accumulator capacity

20L(15kgHDPE)

2

Design

First in and first out

3

Heating zone

6 zone

4

Heating capacity

25.1kw

5

Max die&pin diameter

450mm

6

Die head axis with pre-blow

Ø120mm

7

Accumulator push-out stroke measurement

Transducer Italy Gefran

8

Injection pressure

12 Mpa

9

Extruder stop

Have

CLAMPING UNIT

1

Tie bar

Two tie bar

2

Platen size

900(W)X1400(H)

3

Length of mold

900-960mm

4

Clamping force

780KN

5

Close/Open stroke

880-1700mm

6

Mold weight

Max. 5000 kg

7

Clamping stroke measurement

Transducer Italy Gefran

8

Hydraulic valve

Taiwan Hitech

9

Number of hydraulic cylinder

1

10

High pressure

14 Mpa

11

Support parts for platen movement

Liner Guide

HYDRAULIC SYSTEM

1
Main motor/vice motor
AC15Kw/15Kw
2
Hydraulic valve
Taiwan Hitech
3
Hydraulic pump
Taiwan Hitech
4
Oil tank capacity
850L
5
Operating pressure
12 Mpa
6
Cooling water for oil
fixed
7
Control of oil level
be observed dipstick

PNEUMATIC SYSTEM

1

Operating pressure

0.8 Mpa

2

Blow pressure

0.8 Mpa

3

Needle blow circuit

High & low pressure

4

Intermittent blow

Have

5

Controlled support air for parison

Have

6

Air Valves

AIRTAC

7

Quick exhaust for support air

Have

PARISON CONTROL

1

Programmer

JAPAN MOOG

2

Servo valve


MOOG


3

Servo cylinder

Intergret of die head

4

Hydraulic pack




TAIWAN YOSHE Variable Displacement Piston Pumps

ELECTRICITY

1
Contactor

Schneider

2
Total connected load (approx.)

114kw/h
3
Average energy consumption (approx.)

42 kw/h

WATER COOLING

1


Machine water consumption


6000L/h

2


Mold water consumption


6000L/h

AIR CONSUMPTION

1

Compressed air consumption

1.2 kgf/cm2, 3000 L/min

OTHER FEATURES

1

PLC control

MITSUBISHI

2

Human machine interface

Hitech

3

Recipe storage in hard disk

Available

HEATING CONTROL

1
Power supply to heating element
Relay + Contactor

Japan Omron+Korea LG

2
Control
PLC controle
3
Type of thermocouple
K Type
4
Adjustable lower and upper limit alarm
Have
5
Cold start prevention for screw
Have
6
Alarm for thermocouple and heating element breakage
Have, heating element breakage by anperemeter
7
Pre-heating function
Have

Die-ring AND Die-pin

1
one sets of die & pin
One set according to customer
2
Test material
Buyer supply 300kg material to seller for machine testing

OPTION

1

Bottom blow (hydraulic) and sealing unit (pneumatic)

Double blow pin (including expand & up-down & parison seal)

2

Robot

Have

3

Machine Dimension

6.8×3.3×5

4

Total weight

20
Type of Blow Molding Machine
Extrusion blow molding
In Extrusion Blow Molding (EBM), plastic is melted and extruded into a hollow tube (a parison). This parison is then captured by closing it into a cooled metal mold. Air is then blown into the parison, inflating it into the shape of the hollow bottle, container or part. After the plastic has cooled sufficiently, the mold is opened and the part is ejected.
EBM processes
may be either continuous (constant extrusion of the parison) or intermittent. Types of EBM equipment may be categorized as follows:
1. Continuous Extrusion Equipment
Rotary wheel blow molding systems

Shuttle machinery
2. Intermittent Extrusion Machinery
Reciprocating screw machinery

Accumulator head machinery
Examples of parts made by the EBM process include dairy containers, shampoo bottles, and hollow industrial parts such as drums.
Basic polymers, such as PP, HDPE, PVC and PET are increasingly being co-extruded with high barrier resins, such as EVOH or Nylon, to provide permeation resistance to water, oxygen, CO2 or other substances. In dairy applications, it is possible to extrude a black light-blocking layer in the center layer of containers, with opaque white resin used in the inner and outer layers.
Compared to injection molding, blow molding is a low pressure process, with typical blow air pressures of 25 to 150 psi. This low pressure process allows the production of economical low-force clamping stations, while parts can still be produced with surface finishes ranging from high gloss to textured. The resulting low stresses in the molded parts also help make the containers resistant to strain and environmental stress cracking.
Accumulator Head Machinery
is used for the extrusion blow molding of large industrial hollow parts. Examples of parts produced on this machinery include drums, trash cans, automotive panels, playground equipment, and large containers, such as Jerry Cans, for liquid storage. Most parts produced on accumulator head machinery are single layer; however, specialized machinery is capable of producing parts with up to seven unique layers of plastic - these machines are used primarily to manufacture automotive gasoline tanks with barrier layers.
Plastic machines we provide ....
Extrusion Blow Molding Machine
Injection Blow Molding Machine
PET Blow Molding Machine
Injeciton Molding Machine
Injection Stretch Blow Molding Machine
Applictions ....
Chemicals :
Pesticide bottles and industrial buckets, chemical buckets and other hollow blow-molded buckets.
Cosmetics&Pharmaceuticals :
Vaccine bottles, medicine bottles, medical bed boards, cosmetic boxes, jars and vaseline bottles and other plastic machinery products used in cosmetic and medical fields.
House hold :
Plastic empty blow-molded bottles, plastic containers, such as shower gel bottles, shampoo bottles, body lotion bottles, laundry detergent bottles, cleaning supplies bottles, hand sanitizer bottle, disinfectant bottle, alcohol disinfectant bottle etc. that are often used in daily life.
Indoor & outdoor :
Plastic products are widely used, such as plastic hollow flower pots, plastic watering cans, plastic pet houses, plastic cold storage boxes, plastic children's toys, plastic-bus chairs, plastic tables and chairs, plastic trash cans, plastic traffic cones, plastic life buoys, plastic floats , Plastic buoys, plastic mannequins, etc., plastic machinery products can be seen everywhere.
Food & Beverage :
The common applications of plastic products in the food and beverage industry are ketchup bottles, soy sauce bottles, honey bottles, mustard sauce bottles, milk bottles, yogurt bottles, juice bottles, alcohol bottle etc. Baby bottles are also common in plastic machinery in the beverage and food industry Applications.
Lubrication :
The most common applications for hollow extrusion blow molding machines are lubricating oil barrels, 1L 2L lubricating oil bottles, 5L 10L cans, 10L 20L 25L to 30L lubricating oil Jerry can, and even 60L ~ 250L large barrels.
Automotive :
The application of plastic products also accounts for a large part of automobile parts, such as plastic parts in automobile engines, plastic automobile safety stalks, plastic door handles, plastic car lamp housings, etc.
#blow molding machine
#Extrusion Blow Molding #Injection blow molding machine #PET blow molding machine # injection molding machine # blowing mould # plastic bottle making machine #plastic bottle mould #bottle machine #plastic machinery #blow molding mould #moulding machine # moulding mould #China blow molding machine #blow molding machine made in China